Let Us Bring Your Dreams To Life
We offer bedroom pieces, whole bedroom sets, dining tables with chairs, pub tables with bar stools, hutches and buffets. We also make children's furniture, office furniture, wooden toys, occasional tables, gun cabinets, bookcases and clocks. You can also request a specific style, such as rustic, shaker, mission, contemporary, traditional, log, barn wood, hickory bent, reclaimed or outdoor, and so many more. Whatever the choice, it's up to you!
Please contact us to let us know exactly how we can help make your dreams come true. We hope you enjoy your shopping experience with Amish Crafted Furniture.
Sincerely,
Rick Hencye | Owner
Amish Crafted Furniture
Fine Crafted Furniture from Amish Country
Amish Crafted Furniture is located in the "Heart of Ohio's Amish Community." Owner Rick Hencye has worked with every order of the Amish communities, in both Ohio and Pennsylvania, since the fall of 2000. He has developed relationships with the employers, employees, and family members of Amish furniture shops, and he's very familiar with all the various aspects of the hand-crafted furniture-building process.
It all starts with the loggers, who select the wood to be cut and taken to the sawmills and lumberyards. Then there are the hard-working men who saw the wood and cut it to the specific sizes for our customer's furniture. And finally, there are those who choose the wood to then handcraft the furniture into its custom piece.
Rick has also worked with the men who glue the table tops together, as well as the men who design and turn by hand the spindles for the chairs and table legs. He's worked alongside the very men who design the furniture, many of whom start with a simple pencil drawing. Sometimes, a piece is designed directly from one of our customer's drawings, images, and/or specifications.
In addition to working with the employees and employers of the furniture shops who put the furniture together, he's also worked hand-in-hand with the finishers who stain the finished product to complete the exact piece that our customers choose as a family heirloom piece. This process showcases the grain of the wood, which is enhanced by the finish our customers choose.
We Focus On Relationships
For many years, Rick has enjoyed the ongoing relationships he's forged with the Amish and their families. The building of these relationships has allowed him to play a significant role in the furniture-making process. It has also allowed him to give in to the Amish community. In developing these relationships and working with the Amish, Rick has learned how to relate to the Amish first hand, as he has been very careful to learn and respect their family values, hard work ethics, ways of doing business, and community ties.
He has also made sure to respect and honor their religious beliefs and traditions. The Amish strive to hold on to their way of life, which is void of modern worldly conveniences, and to live and do business in the fast-paced world around them. They seek to take care of their families and uphold their traditions.
It is these relationships that have given Rick the dream to not only work in the Amish communities that he lives in but to also be a part of their community, as he seeks to display to his customers the Amish craftsmanship and the quality of tradition they value.
Rick also strives to showcase a handcrafted, solid wood piece of highly detailed, genuine, and authentic Amish quality heirloom furniture that sustains the Amish integrity and work ethic, without compromising their way of life. He's worked very closely with the Amish, who own and run their own furniture stores, seeking to find what different types of furniture customers actually want.
All of our hardwood furniture is 100% made in America by Amish cabinet makers using age-old techniques. If you don't see what you are looking for, we will help you find it and have it designed and then built just for you.
Rick Hencye | Owner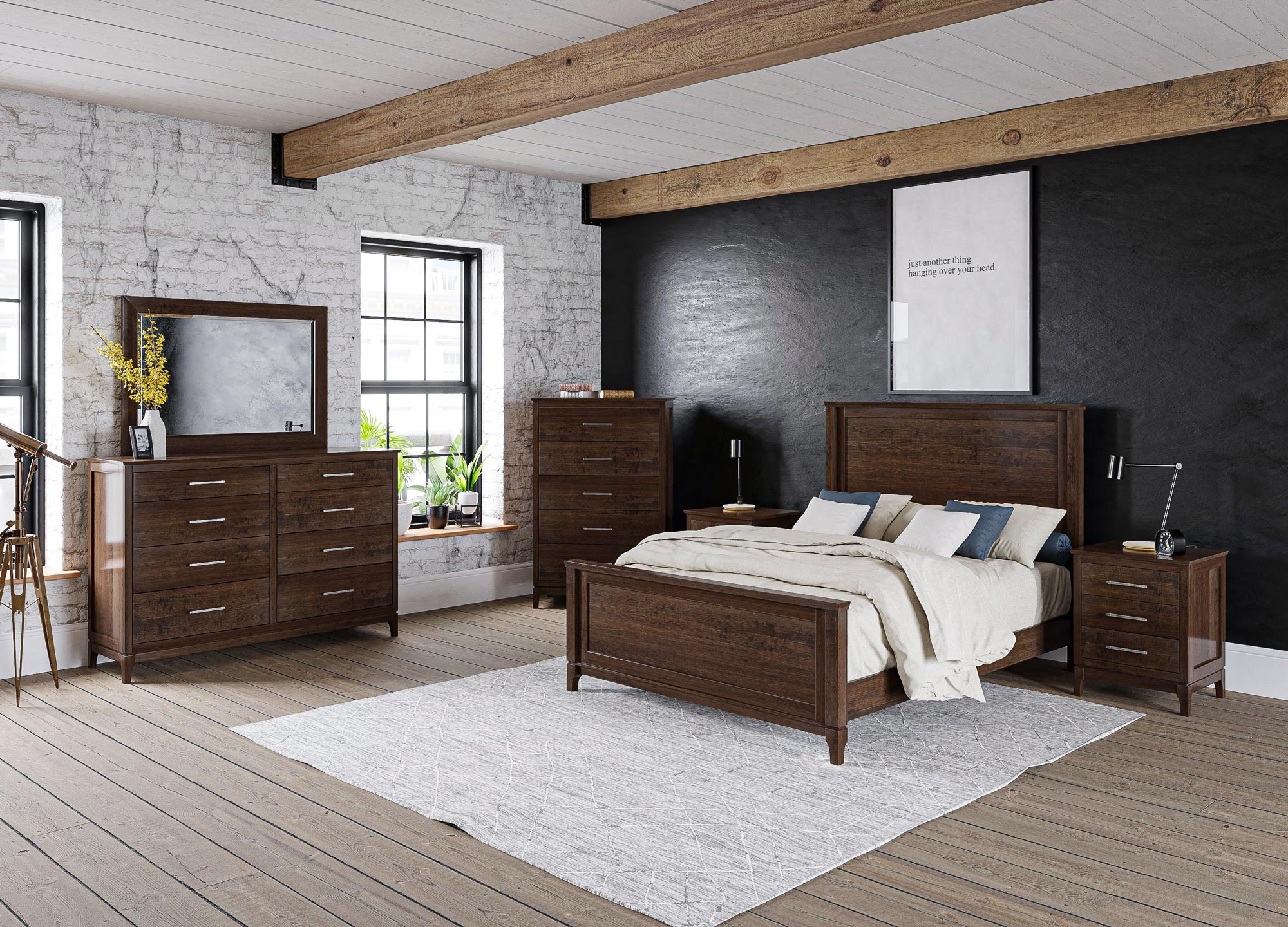 A Wide Variety of Hardwood Furniture
Amish Crafted Furniture showcases a wide variety of fine, hardwood furniture. We specialize in oak, brown maple, cherry, and quarter sawn white oak. We specialize in these specific woods based upon recommendations from our Amish crafters, along with what our customers have asked for. We also offer other fine woods such as elm, hickory, walnut, hard maple, and more, based upon customer preference and special request.
We use all Ohio certified stains on our wood products, and we offer more stains than what our customers see on our website. We also custom build more furniture than what we actually showcase on our website, and we always tell our customers that if they do not see what they're looking for, then we'll be happy to work with them in designing and building the exact heirloom-quality piece they're looking for.
We live & work right here in "Ohio's Amish Community," and we have the ability to work very closely with our wood furniture crafters, in assisting you, our customer. Amish Crafted Furniture believes in integrity and values from start to finish of every product. 
The relationships we've built and continue to maintain with these fine, hardworking people, places us in the unique position of being able to assist you, our customer, in creating the exact piece or pieces of furniture that you want to showcase in your home as a handcrafted heirloom piece, one that is truly that of American tradition. These are high-quality works that you and your family can pass down through many generations, just as our woodworkers and cabinet makers have passed down their furniture making skills, family traditions, and values.
As they handcraft our customers' furniture, the Amish construct the same durable, handcrafted furniture that they display in their own homes. They pay great attention to detail, which helps them put together your specific piece, one that will be showcased and cherished in your home for many years to come, a piece that is genuine and authentic Amish Crafted Furniture.
Our website continues to grow, adding new products weekly, as the ever-changing needs around us keep us seeking for a better product to fit our customers' needs. We invite you to visit our website and shop for your next piece of hand-crafted, custom-built Amish furniture, one that will best fit your need, style & desire.